Courage to run a café
Coffee shops have a future, especially in Facebook and Twitter times!
François Koepp, general secretary of the Horesca, states, "There is a future in operating a coffee shop, because in the age of Twitter, Facebook, and Co. people have a need to communicate properly."
In the last contribution of the four-part series on employment prospects in hospitality and gastronomy, François Koepp takes up the cudgel for coffee shops. "There are so many deserted cafés in Luxembourg where thousands of cars pass by every day. Such operations should certainly be more successful than expensive luxury hangouts in the capital, which must struggle with tremendously high costs every day and don't know whether they will be able to make ends meet by the evening," says the secretary general of Horesca.
Cafés change their structure
It is not uncommon to pick up an inn for an interesting price, especially in the countryside.
"If you make a good impression and offer good service, you can build a very successful business."
François Koepp, general secretary of the Horesca
However, many inns have ceased operations in recent years. "It is true that the number of inns is decreasing. But the industry is changing in its structure," explains Koepp. "It may happen that a small café run by two people stops operating... but somewhere else a new one is set up for which a chef, three waiters, and perhaps a dishwasher are employed. Then you have as many people working there as in two smaller establishments..."
Most of these restaurants are privately run. We are especially looking for employees for service, sometimes bartenders, and even a chef, who would mostly produce typical bistro dishes. "It doesn't have to be someone who has already worked with star chefs but rather who has earned his spurs in small bistros, with regional cuisine. S/he has to be a good cook, who serves his guests a good meal at noon so that they can eat well and go back to work," Koepp concludes. An occupation that is open to almost everyone.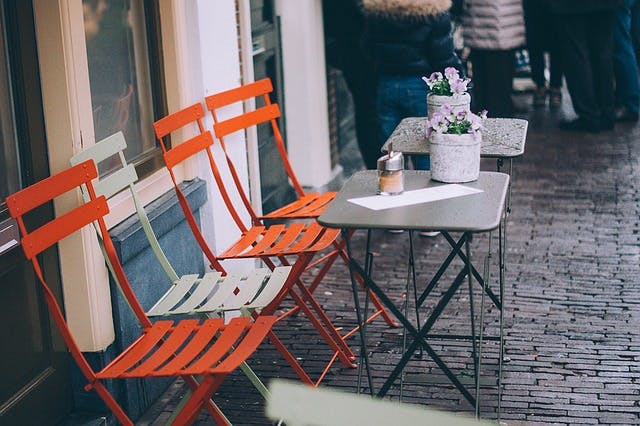 At the moment, young people tend to get together and open a café.
Someone who wants to run a café needs no previous experience with the profession at all. The prerequisite is however that the compulsory course is completed at the Chamber of Commerce ("Accès aux professions de l'Horeca"). After that, you must have worked for three years, no matter in which sector. If a trade authorisation is granted, a restaurant may be opened.
Of course, anyone from the hotel or catering trade can open a restaurant. The majority, however, are people who want to try their luck as coffee shop operators. "Not infrequently they are people who have not been lucky or failed in other projects," Koepp says. But this is also a problem. "Running a coffee shop is a serious occupation!"
An industry with potential for success
Koepp also confirms that a good coffee shop owner can make real money. "You have to know that you have to work hard, but the profession can be a lot of fun and joy. And it often doesn't end there. I know a lot of small cafés that have become very successful over time and have built up something great," testifies the Horesca secretary general.
At the moment, young people tend to get together and open a café. They do not necessarily come out of the profession, but "they do the right thing – they take the experts on board!" They are well-educated people, who do not have the necessary capital to start on their own business and who are subsequently integrated into the business by partners. "This leads to success!" assures Koepp.
The Horesca secretary general also includes that of barman among the interesting occupations in this sector.
"The profession has a lot of potential, because many a barman who has worked in a small setting has already risen to being head barman in big hotels!"
François Koepp, general secretary of the Horesca