Where Can I Take You?
Becoming a taxi driver in Luxembourg
Governed by a new law since 2016, taxi drivers in Luxembourg require specific training and know-how. However, this sector employs a thousand people and is a viable career option. Moreover, new recruits are currently being hired.
The taxi sector is regulated in Luxembourg: taxi drivers and operators need to respect certain procedures! The law is also very detailed when it comes to the everyday requirements of being a taxi driver, in regard to security, parking and relationship to clients.
Definitions
One can be hired by a company or an independent businessperson, or be the director of a company with several employees and vehicles. Therefore, the law distinguishes drivers from those running a taxi business.
To become a driver, the law requires you to "own a taxi driver license issued by the Ministry of Sustainable Development and Infrastructure (MSDI)." To obtain this license you must:
possess a valid driver's license for min. 2 years;
have sufficient knowledge of at least one of the three official languages of the country (FR, DE, LU);
submit a criminal record without a conviction (no prison sentence of at least six months for theft, fraud, breach of trust, willful violation of a bodily integrity, sexual assault, or violation of the narcotics legislation);
attend a briefing organized by the Ministry.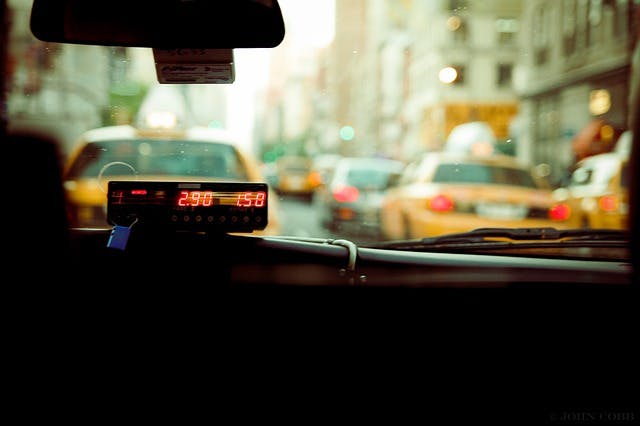 One can be hired by a company or an independent businessperson, or be the director of a company with several employees and vehicles.
To own a taxi business, you must possess a permit issued by the General Directorate of SMEs and Entrepreneurship of the Ministry of the Economy. After this, you must apply for a regular taxi license.
Licenses: this great revolution was introduced in 2016. Until then licenses were issued by the municipalities. Now, the Ministry manages licenses according to geographical zones: Center Zone (Luxembourg City), 290; South Zone, 140; West Zone, 30; East Zone, 25; North Zone, 50; Northeast Zone, 15. There are a total of 550 licenses.
Additionally, the ministry grants 20 licenses per year for "zero emission" vehicles. This is done in an effort to contribute to the renewal of the park in the interest of sustainable development.
However, the law states that "the maximum number of taxi operating licenses cannot exceed 1.5 taxis per thousand inhabitants of the Grand Duchy of Luxembourg."
Remember
All drivers must own a special license. All taxis must be registered with a licensed company (registration number or Vehicle Identification Number). A company can own several vehicles, meaning several licenses, and employ several drivers.
Salary and Working Conditions
According to the collective agreement, all paid taxi drivers receive 36% of the revenue generated by a journey. Gratuities are not included. If the actual monthly salary calculated based on this doesn't meet the legal minimum salary (excluding tips), then the legal minimum salary must to be paid.
Workdays consist of eight hours per day and 48 hours per week, maximum. In practice, workdays cannot exceed twelve hours (during which the employee can take one or several breaks, and which include wait times).
Training
As part of the process required to receive the driver's license, the Ministry hosts two information sessions (four hours each) which include courses on taxi legislation, training related to "customer care" and conflict management, and basic first-aid training.
A provisional license is issued after the first information session has been completed and in the six months following it. The permanent license is issued after completion of the second information session. It should be noted that the Ministry offers support for preparation, and courses on the website infotaxi.lu.
In addition, the ADEM (Agency for the Development of Employment) offers training to become a taxi driver (for jobseekers). Each training cycle lasts three weeks, and classes are taught at the Esch-sur-Alzette training center. The mandatory information session organized by the Ministry, required to obtain the taxi driver license, is included in this training.
Interview
For the head of the main labor union it is very clear: "There is a shortage of drivers." For Olivier Gallé, president of the Federation of Taxi and Ambulance Owners (affiliated to the Chamber of Commerce), the sector is growing, but lacking manpower. Only a few basic skills are necessary…
How do companies recruit?
"Aside from the legal minimum required, the license issued by the State, we want drivers to have a good working knowledge of the neighborhoods and routes in Luxembourg. The law generally requires drivers to take the shortest route unless the customer specifies otherwise...There is generally no problem concerning language."
What training do people receive?
"In my company, and in most of the other companies, new recruits are trained internally and have a booklet to ensure proper use of the taximeter. They then gradually become more autonomous. They start with night work because customers are less in a hurry, and traffic is less stressful. Working conditions at night are better suited for those who are just getting started. After a fortnight, we are able to judge whether the recruit has what it takes to be a good taxi driver."
It's a customer-based profession. Isn't a good sense of customer relationships necessary?
"Evidently having a good sense of interpersonal relations and communication is necessary.
"Adapting to the customers moods...It's inherent to our job, like it is in all commercial professions."
Olivier Gallé, president of the Federation of Taxi and Ambulance Owners
Even as an employee the driver is independent during his work hours. It's up to him to better manage his work day. He can alternate between jobs from the taxi call center or picking up guests at the taxi stand (at the airport for example). As you can see, loving and knowing how to drive is not enough."
What about the salary?
"The collective agreement mandates a salary consisting of 36% of the revenue earned by the employed taxi driver. Not including gratuities. With a little experience, a taxi driver can expect to earn between 2,500 to 3,000 euros per month."
And how do you become your own boss?
"After three years working as an employed taxi driver, you can apply for a license. The demand is strong in some areas (Luxembourg City). So, there are waiting lists. In other regions, things move along faster. Other employees leave the profession to become private drivers or drivers for administrations, embassies ... There is a significant turnover. Therefore, the sector is looking for new recruits (*). One could say there is a shortage of drivers ... "
What about tensions caused by companies like Uber?
"There are rules and laws which must be respected. We work in accordance with the government. We cannot accept that people work on their own for low wages, without social protection, for platforms which are based only god knows where. It's unfair competition and undeclared work. This type of work is slowly decreasing, and that's a good thing."
(*) According to the Chamber of Commerce, this sector comprises a thousand jobs (excluding administrative staff). The same car can be used by several drivers within a taxi company.
related jobs

see all related jobs