Sinking your teeth into it
Prevention, prophylaxis, and treatments for healthy teeth
Many patients associate a visit to the dentist, even just an annual check-up, with negative emotions. Three out of four people fear their dentist appointments and the pain they connect with them.
However, we all know just how important regular check-ups are. We seek out our dentist when it comes to oral cavity diseases, teeth, gums, the jaw, as well as tartar removal and pulling wisdom teeth. The following gives an insight into this complex and interesting profession, which requires manual dexterity as well as technological and scientific competence.
In general
In 2014, Luxembourg numbered 476 practicing dentists with regional designation (source: Statec). To receive a licence in this country, national law demands a university education of at least five years. The job differentiates between dentists and specialist dentists. The title of a specialist dentist can be attained after receiving a licence to practice dentistry and having successfully completed three to four years of further training, for example specialising in orthodontics, oral surgery, public health, or periodontology.
All recognised diplomas in Luxembourg must be submitted to the Ministry of Health. After completing the exam, the ministry grants or rejects the professional licence in conjunction with the evaluation made by the "Collège Médical". However, it should be noted that a registration fee must be paid beforehand, which differs depending on the level of qualification and the applicant's desired title. And those who want to obtain a doctorate must submit a respective application to the Ministry of Higher Education and Scientific Research.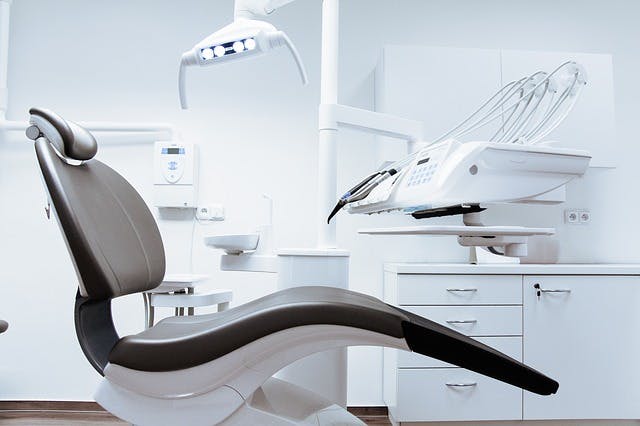 A dentist's job is very multi-faceted. Those who want to practice this profession must demonstrate finesse and precision as well as psychological sensitivity.
The details
A dentist's job is very multi-faceted. Those who want to practice this profession must demonstrate finesse and precision as well as psychological sensitivity. A patient's fears should be taken seriously, so that all treatments can be conducted with as little stress as possible. Especially children can panic at the sight of all the tools in the practice and must be calmed down accordingly. But adults of course also feel more comfortable if they trust their dentist and feel understood.
Since a dentist may face disciplinary, civil, or criminal charges if they are responsible for a treatment error, they are expected to continually expand their scientific and technical knowledge and stay abreast of the latest technological developments.
Further training can be completed in areas such as "Dental treatments for children" or "Dentures". Individuals interested in the area of "Orthodontics" focus on preventing, recognising, and treating malpositioned teeth and jaws. "Oral surgery" is a particularly complex field. Its range of services includes tooth removal, dental implantology, root tip treatment, tumour treatment, and reconstructive surgery.
Aside from medical duties, a dentist often also works on aesthetic aspects. For quite a few years, dentists, surgeons, and dental technicians – and of course also patients – have benefited from the developments in digital dentistry. Thanks to three-dimensional diagnostics and analyses as well as computer-aided planning, many procedures can be conducted with greater safety and minimal invasiveness. First-rate and extensive diagnoses actually form the basis for all dental planning and treatments.
Additional duties of a dentist that should not be underestimated include prevention and prophylaxis as well as the accompanying consultations. Dental cleaning and tartar removal, polishing, tongue cleaning, as well as cleansing gingival pockets also belong to their tasks. Furthermore, dentists advise patients and give recommendations regarding nutrition and dental hygiene. Modern-day dentistry offers a variety of options for closing tooth gaps, correcting damage, and maintaining teeth. Together with their patients, a dentist decides on the medically most sensible – and ideally most pain-free – treatment option.