Construction in the Grand Duchy
From the point of view of economic development, the Luxembourg construction industry, whether it be housing construction or commercial real estate, is in very good shape.
The financial crisis of 2008 did not affect the sector. In the past, the government assisted in the implementation of a number of construction projects in order to mitigate the temporary decline in orders received in the construction sector.
According to the statistical institute STATEC (Institute national de la statistique et des études économiques), an increase of 0.7% in the third quarter of 2016 is recorded for employees subject to social insurance (data from all economic sectors). The construction industry employs 40,000 people, with all professional qualifications included, from structural work to the professions that use specific technology such as power supply and heating, roofing, and plumbing. Numerous industrial companies have close business relations with the construction industry.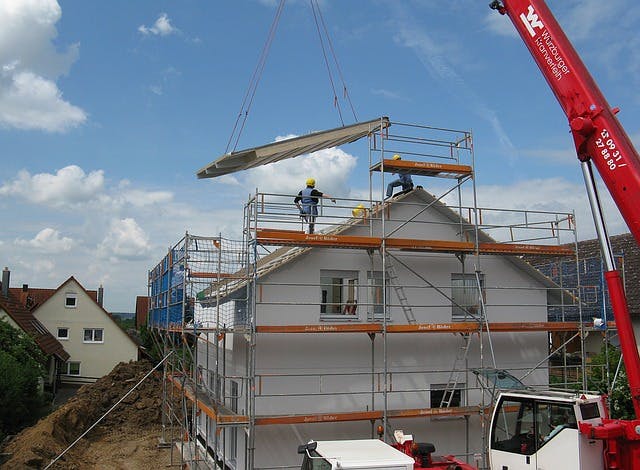 housing construction
However, this highly dynamic sector with high employment figures suffers from a lack of skilled labour. Public opinion, as the players in the industry underlines, should rethink its image of the construction sector so that the young people can have a realistic view of the workspaces associated with construction.
" These are serious jobs. We work in the area of craftsmanship, and the lack of enthusiasm for and the deficient image of these professions are regrettable."
Jean-Luc de Mateis
Nevertheless, there is reason to be optimistic, provided that the companies active in the construction industry who want to attract new, motivated workers rethink the way they present the positions. This also applies to collective bargaining agreements in order to provide better working conditions and additional wages.
Great value is placed on a good general education, yet there is a definite lack of understanding of machine technology, as the school system is far removed from the requirements of certain areas of business. However, efforts are currently under way in the field of vocational training to remedy the deficiencies. In the Grand Duchy, the Centre for Competence 2 (centers de compétences, CDC) has been active in this direction, in addition to IFSB (Institut de formation sectoriel du bâtiment), the institute for further education in the construction industry, which has been operating in Bettembourg for 12 years.
These "new generation" centres, for which enterprises invest 0.5% of their gross salary total, were designed to meet the wishes expressed by the workers and employers and take into account the interests of the economy and aspects of social development. As training centres that train personnel in new technologies and expertise, they are facilities that ensure further development in the areas of civil engineering and manufacturing.
The new technological culture in the service sector, as mentioned, benefits all the players in the industry. This applies to workers, job seekers, company bosses, and especially young people, who want to orientate themselves professionally or who find this crisis-free economic sector attractive. However, the building industry must reinvent itself. "In the sense of individual well-being as well as growth."