How to open your food truck
On the road with the food truck
Many people dream of earning their living with their own mobile food truck. This job offers a certain freedom that many people crave. However, you should consider that this job comes with obligations and strict regulations.
Before becoming active in this area, you must take different regulations into consideration. A food truck, which is always appreciated, is a small vehicle that temporarily stands at certain locations and prepares and sells all types of dishes. Some operators specialise in certain offers or offer a wide variety of food. Of course, there are clear legal regulations regarding the vehicle's design, its positioning in a city, and food sales. Several administrative procedures must be completed before starting your business.
The owner's obligations
Let's start with the fact that running a food truck requires an official permit for business activity. This is issued when two prerequisites are fulfilled:
You must meet the legal requirements regarding professional qualification and personal integrity for this job.
As the business owner, you must officially indicate a fixed place of business in Luxembourg.
Of course, it is clear that a food truck, by definition, doesn't have a fixed address; you can switch the vehicle's location from one spot to the next. However, the owner must have a fixed postal address for their company.
The owner must then complete various administrative formalities – depending on the local conditions – before they can position their vehicle at a certain location. In the city of Luxembourg, for example, several requirements must be fulfilled, and the owner must obtain a permit that is valid for a maximum of six months. Every owner must use the same standard form; this is the only way they can profit from a certain location and practice their trade at times that are determined beforehand.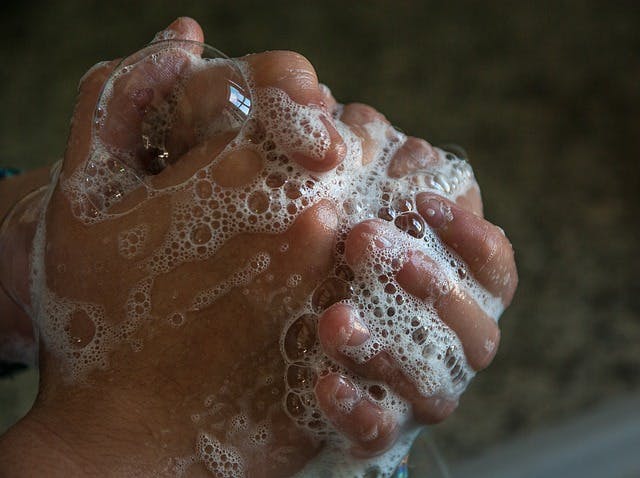 It must be ensured that no germs can be transmitted
Budgeting
When gastronomy experts at times opt for a food truck instead of a traditional restaurant, this is mainly because it presents an alternative that entails lower a priori costs and fewer regulations. The maintenance costs that must be considered for a food truck are of course lower than the maintenance costs for a standard restaurant.
However, this does not mean that a food truck owner doesn't have to pay fees and taxes. For example, those who want to sell their goods in a specific fixed area need to pay stand fees. The administrative regulations for locations vary depending on the city. When selling goods for the whole day, owners should expect to pay more than €500 (this particularly applies to larger cities). Some places may charge lower stand fees, which is ideal for owners who are just starting their business. In this regard, it is recommended to check the various stand areas and their fee regulations or to take the economic environment at a range of locations into consideration to find an optimal compromise (a location that offers a satisfactory purchase power potential and at the same time charges manageable stand fees).
Everyday work processes
First of all, it should be noted that food regulations apply when operating a food truck. After all, you are offering dishes for end consumers. Owners must therefore ensure compliance with strict hygiene regulations. The commercial activity must therefore be registered with the food safety authorities in accordance with regulations. Additionally, the requirements demand that at least one employee must have participated in further training on the subject of food hygiene.
The optimal vehicle design
For everyday work processes in the food truck to run as smoothly as possible, the interior fittings should be designed accordingly. For example, it must be ensured that no germs can be transmitted (cross-contamination). Additionally, it must be guaranteed that the ventilation is operating optimally, for example to prevent dust from accumulating or bad odours from developing. The owner must make sure that drinking water is available. A food truck operator must guarantee food safety for any stored items, and they cannot neglect the aspect of hygiene. Even if they are working in a small space, everything must always be clean! Furthermore, pest control must have high priority, because the likelihood of pests is greater when working outdoors.
To be able to work in such a small space, work processes should be planned very precisely. Since the truck owner wants to make his target group aware of their products and establish customer loyalty, they must demonstrate innovativeness, i.e. offering dishes that correspond to the taste and wishes of potential customers. In general, a food truck owner does not count their invested working hours. In addition to selling their goods during specific time periods, they must also constantly have an eye on the state of their truck (this concerns maintenance work, cleaning the materials, completing administrative duties).
In conclusion, it can be said that such a mobile snack truck may fulfil professional wishes – for individuals who are capable of running their own business and can adapt to working in a small work space, which some may find uncomfortable. However, it should be noted that budgeting, as part of implementing the original business idea, requires a target-oriented and methodically organised approach. This should not be underestimated!