Art gallery
Passion is more important than profitability
If it is a genuine vocation – and only then…
If you survey the field of art as a whole, you'll find only a few chosen ones who practice this profession from among the select and prestigious individuals in the art world . Yet, it has to be presented here, so let's haul this profession, where passion for art is the only motivation, into the limelight.
Alex Reding of Galerie Nussbaum-Reding goes right to the heart of the matter, "To be a gallery owner is to perform a sacred office!" The art enthusiast readily admits to securing his livelihood by "breadwinning" after completing his studies in art and art sciences in Paris and Düsseldorf. This courageous personality, inspired by sculpture, was originally a teacher. His gallery, however, is his real life. This is the result of mature consideration and also demonstrates a clear work ethic.
"There is no place for flukes: the profession is hard. You have to make an enormous effort to be selected as a gallery owner at the trade fairs you want to exhibit at. "
Alex Reding of Galerie Nussbaum-Reding
"It's just like this: If I am not selected in Basel, I do not reach the global clientele. If the FIAC (in Paris) takes place without me, I miss the contact with the Parisians and the French. Depending on the trade fairs you want to participate in, you have to spend several nights in a hotel. I focus my attention on the five trade fairs around Luxembourg." And, a little shamefully, Mr Reding mentions his understandable wish that his wife and children should have a good life.
Mr Reding summarises the requirements of practicing the profession of gallery owner clearly, "You have to build up the structure and master all the other elements at the same time." Among these aspects are the creation and organisation of events, the "consulting", and the importance of editorial work cannot be underestimated either. Supporting the artists and their efforts to get growing recognition is also important. As this appreciation of the work artists do is addressed, you have to ask: Can one assert that economic growth in Luxembourg benefits the development of art?
Alex Reding is hesitant to offer an opinion on this matter. "It is really very difficult to create objective parameters for the appreciation of art. In the interior of Luxembourg, the objective is, more than anything, the speculative value of the artwork. The basic creative style of an artist and also his exhibitions in certain institutions (such as museums and galleries etc.) of a major metropolis represent the reference point. It is difficult to apply exclusively artistic criteria here. As far as Nussbaum-Reding is concerned, we feel that we have to create a balance between the international standing of the artists exhibited in the art gallery and the local positioning." The gallery owner's profession is truly based on an ideal.
"We try not to concentrate exclusively on the taste of the broad public, although I like to concede that certain concepts are easier to grasp than others." Currently, avant garde art is not popular, and concept-art works that are regarded as too strict in form are difficult to sell. "If, however, a gallery doesn't take a chance on representing one or another of these positions, can it really lay claim to quality?" asks Alex.
On the absolute necessity of versatility
This is a point of view shared by Hervé Lancelin of the art gallery of the same name. He has been "immersed" in art – in all its forms – since his earliest childhood and grew up in art galleries and exhibitions and fairs. This passionate art collector and expert on the work of Pierre Soulages (who has been urging him for years to open his own gallery), has waited for the artist to arrive in the Grand Duchy and for the possibility to occupy premises in order to finally open his own gallery in the city. This opportunity, which Lancelin was presented with after thirty years of experience as an art collector, represents a further development of his commitment and support for artists.
"It's a good solution if you can't afford to buy everything yourself," says Hervé Lancelin with a smile. But he warns,
"To be a gallery owner means to pursue a profession passionately and to work hard for the artists. "
Hervé Lancelin of the art gallery of the same name
"This is not a job that one takes to earn money. The audience does not enter art galleries spontaneously. This is why you need to organise events, such as vernissages, to arouse the curiosity of the public." That is the "bother" of the profession, but not exclusively so. "I don't recommend this profession if your image is only artistic or only commercial."
The Ecole du Louvre/Essec in Paris has found an adequate solution to the dilemma: For the last five years, it has been offering a comprehensive two-track "Ecole du Louvre/école de commerce" training course. Hervé Lancelin says, "The eye of the gallerist must be able to recognise artistic originality and specific signatures. And new methods and inspirations must also be recorded if they haven't been already. You can't hope for simple answers." It is clear that the adoption of new assessment criteria is a further challenge that will have to be overcome.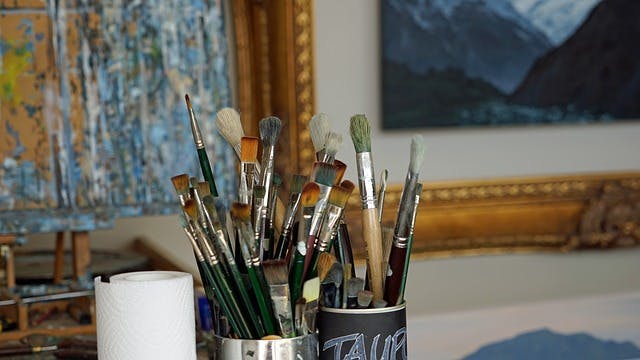 "There are few visitors in the gallery on weekdays; that allows me to meet artists in their studios in my spare time."
Art requires optimal interaction
Some art galleries – especially those that are inherited from one generation to the next – employ up to 40 people, which is remarkable. It is not uncommon to find employment offers for positions such as art gallery assistant, the person who does the everyday work (relations with the museums, documentation), or a person responsible for trade fairs, and/or a manager for the acceptance of artworks and hanging them.
In order to cope with the workload, large companies also need people to take photographs of the art works, specialists for insuring them, as well as editors (compilation of the texts for press releases and also of concise summaries). In a small art gallery, the director does everything – on his own. Hervé Lancelin explains, "There are few visitors in the gallery on weekdays; that allows me to meet artists in their studios in my spare time."
The art gallery 2.0
As in many other industries, there are signs of change. A new type of art gallery is emerging. Art Work Circle is the first platform in Luxembourg to promote and sell works of art that it has listed specifically. The website has been promoting the artists of Luxembourg and the greater region since December 2015. The idea of the founder, Guy Kerger, was to contribute to the support of artists, while dynamically developing art in Luxembourg. Didier Damiani, who studied at the Sorbonne and Goldsmiths College at the University of London, had the right professional profile to take on the role of Business Development Manager at Art Work Circle.
The art gallery does not have its own premises in the city. Didier Damiani emphasises that several professions are involved in the running of a virtual art gallery – art historians, e-commerce specialists, webmasters, graphic artists, video producers, photographers, editors and translators, community managers, who in their daily work contribute to present the artists in the best possible way.
"It is important to prove that you are able to multi-task in order to work in this area. These days you must be able to move with an accelerating world and develop and learn daily. In addition to mastering the duties related to the overall context of the arts (relationship management, advertising, consulting in the acquisition of art works, reviewing, exhibition of artworks), solid knowledge of the new digital occupations (e-marketing, user experience, online sales) is necessary for being creative and innovative."
In the interim headline above, we formulated "If it is a genuine vocation, and only then ...". That is, the profession of art gallery owner is orientated towards an ideal, places the highest demands, but offers [mostly] intellectual "compensation". Why not consider basing your life on this ideal instead of chasing profitability at all costs? Three different conceptions of this field of activity lead to interesting considerations.